Intensieve cursussen Spaans
sinds 1964
Cursus online
The On-line course is available on the Internet in levels A1 and A2.
Visit abclingua.net for a free demo.
Cursus online

1 maand:

2 maanden:

3 maanden:

4 maanden:

Me gustaría muchísimo volver a la escuela el próximo año para mejorar mi español y también porque he encontrado personas muy amables y divertidas. ¡Muchísimas gracias!
Ilaria farioli, 26, Italia.
Studie tip:
Het strekt tot aanbeveling om wat Spaanse teksten die je interessant vindt mee te brengen voor je privé lessen. Het werken met dit materiaal zal de lessen productiever en onderhoudender maken.
---
Lessen via Skype:
235 Eur/10 uur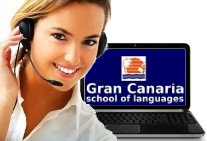 ---
Online cursus Spaans:
Onze online cursus Spaans van niveau A1 en A2.

---
Spaanse grammatica: