Intensieve cursussen Spaans
sinds 1964
Cursus online
The On-line course is available on the Internet in levels A1 and A2.
Visit abclingua.net for a free demo.
Cursus online

1 maand:

2 maanden:

3 maanden:

4 maanden:

Muchas gracias por el tiempo formidable en la escuela de idiomas. Aprendí y me gustó mucho. Espero veros pronto. Voy a recomendar la escuela a otros alumnos. Hasta luego.
Christine Göltsch, Deutschland.
Studie tip:
Het werkt het beste om de lesstof na de les nog eens door te nemen terwijl het nog vers in het geheugen zit. Tijdens een volgende les zal je merken dat je de onderwerpen beter kunt herinneren en dat het bestuderen daarvan makkelijker wordt.
---
Lessen via Skype:
235 Eur/10 uur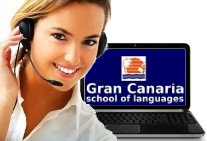 ---
Online cursus Spaans:
Onze online cursus Spaans van niveau A1 en A2.

---
Spaanse grammatica: