Intensieve cursussen Spaans
sinds 1964
Online test
Dear Student,
This test consists of 50 multiple-choice questions. There is only one valid answer (A, B, C, or D) for every question.
Read the question and click on the answer you think is correct.
The degree of difficulty increases progressively.
There are ten questions for every level (A1, A2, B1, B2, C1). At least seven must be answered correctly in order to pass the level. The results of your test will give us an approxiamete indication of your language level, but in order to place you in the right class, you will also need an oral interview with a teacher at school.
Once you are finished click on the Next button.
Please do not use a dictionary or anybody's help.
Before you proceed, please confirm you are not a robot.
Are you a robot?

The school was well recommended by a friend. I rate the course overall as excellent and I recommend the school to other students. I will book a Spanishcourse at the school again."
Kristin Sigurttardöttir, Iceland.
Studie tip:
Het strekt tot aanbeveling om wat Spaanse teksten die je interessant vindt mee te brengen voor je privé lessen. Het werken met dit materiaal zal de lessen productiever en onderhoudender maken.
---
Lessen via Skype:
235 Eur/10 uur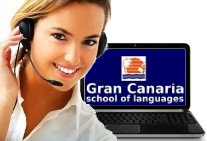 ---
Online cursus Spaans:
Onze online cursus Spaans van niveau A1 en A2.

---
Spaanse grammatica: