Intensieve cursussen Spaans
sinds 1964
Online test
Dear Student,
This test consists of 50 multiple-choice questions. There is only one valid answer (A, B, C, or D) for every question.
Read the question and click on the answer you think is correct.
The degree of difficulty increases progressively.
There are ten questions for every level (A1, A2, B1, B2, C1). At least seven must be answered correctly in order to pass the level. The results of your test will give us an approxiamete indication of your language level, but in order to place you in the right class, you will also need an oral interview with a teacher at school.
Once you are finished click on the Next button.
Please do not use a dictionary or anybody's help.
Before you proceed, please confirm you are not a robot.
Are you a robot?
Me quedé con muy buena opinión sobre la escuela en general. Las clases fueron muy divertidas y muy interesantes porque se habla y se disfruta mucho, y el método didáctico es muy eficiente. Y también es muy familiar. Me gustó mucho mucho estar aquí y regresaré en la próxima ocasión".

Alexandra Preda, Austria.
Studie tip:
Het werkt het beste om de lesstof na de les nog eens door te nemen terwijl het nog vers in het geheugen zit. Tijdens een volgende les zal je merken dat je de onderwerpen beter kunt herinneren en dat het bestuderen daarvan makkelijker wordt.
---
Lessen via Skype:
235 Eur/10 uur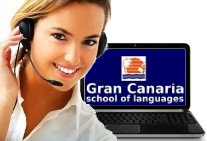 ---
Online cursus Spaans:
Onze online cursus Spaans van niveau A1 en A2.

---
Spaanse grammatica: